Titans suffer a COVID-19 outbreak
Plus, Vandy football is finally able to earn a win...in the helmet decal department.
Welcome to the Music City Sports Report.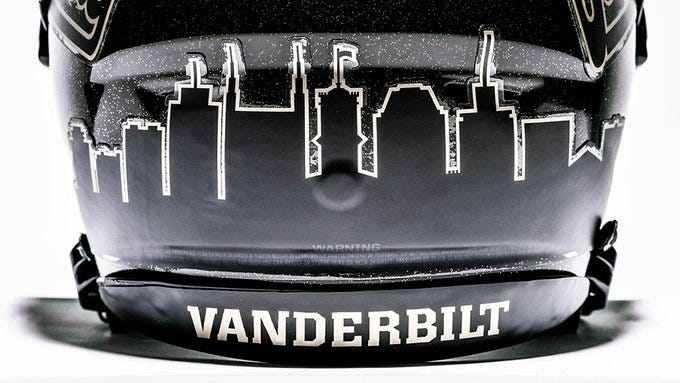 ---
Links
Unless you've been living under a rock when it comes to sports this week, you may have seen that the Titans have had a COVID-19 outbreak. As of Sunday, they were up to 20 positive cases. The NFL launched an investigation into the situation.
The Titans game against Pittsburgh was postponed into later in the season, and now the matchup with Buffalo is in jeopardy. Tough blow for a team that was unbeaten and riding high. At least Stephen Gostkowski was named the AFC Special Teams Player of the Week.
Fun Nashville SC story from Drake Hills about Alistair Johnson and Walker Zimmerman bonding over Fortnite. NSC earned a scoreless draw against New England on Saturday.
Former Mt. Juliet, Belmont, and MTSU star Alysha Clark was named to the WNBA All-Defensive First Team. Candace Parker shockingly was not on the First OR Second Teams despite being named the Defensive Player of the Year by the media. She was, however, voted First-Team All-WNBA.
The Vandy Boys keep killing the branding game. And for once, Vanderbilt football kept up in the cool department:
The NCAA finally freed Cade Mays. He made his debut in UT football's dominating win over Missouri on Saturday.
Tennessee continues to prove its women's soccer fandom as Nashville, Memphis, and Knoxville were three of the 10 top-rated markets for Saturday's NWSL matchup.
102.5 The Game officially has a new morning show: Robby and Rexrode featuring Robby Stanley and Joe Rexrode.
The Nashville Superspeedway's big return finally has a date: June 20, 2021.
Interesting story from The Athletic on former Titans WR Chris Sanders being the NFL's all-time record holder for least rushing yards due to four career negative carries.
---